Today I'm posting a very different blog. It's very personal, and I may end up deleting it, but I really need to vent myself, and when you have a blog, well… you have the perfect way to do it.
Today I want to tell you a story. A story about a girl I mentioned a few times on this blog, but the story I'm going to share today is a bit different from those posts. That girl is called
Maria
, and Maria has been the best best friend I've had in my entire life, but last week that friendship came to an end.
I'm not going to lie to you. I was feeling really down. I could barely eat, I could barely sleep, I felt sick… I didn't care about anything so when my stomach screamed for food I would just ignore it. I even cut my hair quite a lot, because… as I was saying… I just didn't care.
But last weekend I decided to do something that changed my whole vision about this. I read The Little Prince. Again. If you follow me on twitter, I'm sure you already know because I quoted like half of the book there. And I want to share a piece of that book with you, but I warn you, you have to open your mind to understand it, because otherwise… it will make no sense.
"What does that mean--'tame'?"

"It is an act too often neglected," said the fox. It means to establish ties."

"'To establish ties'?"

"Just that," said the fox. "To me, you are still nothing more than a little boy who is just like a hundred thousand other little boys. And I have no need of you. And you, on your part, have no need of me. To you, I am nothing more than a fox like a hundred thousand other foxes. But if you tame me, then we shall need each other. To me, you will be unique in all the world. To you, I shall be unique in all the world . . ."

(...)

"I am a little bored. But if you tame me, it will be as if the sun came to shine on my life. I shall know the sound of a step that will be different from all the others. Other steps send me hurrying back underneath the ground. Yours will call me, like music, out of my burrow. And then look: you see the grain-fields down yonder? I do not eat bread. Wheat is of no use to me. The wheat fields have nothing to say to me. And that is sad. But you have hair that is the color of gold. Think how wonderful that will be when you have tamed me! The grain, which is also golden, will bring me back the thought of you. And I shall love to listen to the wind in the wheat . . ."

(...)

So the little prince tamed the fox. And when the hour of his departure drew near--

"Ah," said the fox, "I shall cry."

"It is your own fault," said the little prince. "I never wished you any sort of harm; but you wanted me to tame you . . ."

"Yes, that is so," said the fox.

"But now you are going to cry!" said the little prince.

"Yes, that is so," said the fox.

"Then it has done you no good at all!"

"It has done me good," said the fox, "because of the color of the wheat fields."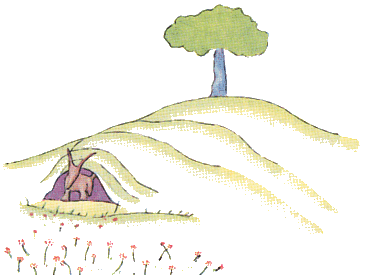 I named this post "À cause de la couleur du blé", which means "because of the color of the wheat fields". And re-reading this book changed everything. I realized that as much as I might miss her, and as much I might wish things were just the way they were with her, I still have the color of the wheat fields.
Until this Saturday, I was devastated because I couldn't get her out of my thoughts, my memories or my life. But of course I can't, because I am not meant to. I said she was the best best friend I had, and that's what she was. So now, when I think of her, I'm just glad and happy that she was my friend once, and that she let me be a part of her life. And yes, I still love her and I still care about her, and I'm not going to try to change that any more, because we don't have enough of those feelings in this world. So instead of crying because she's not my friend, I'll just smile because she once was. Instead of getting sad when I see a picture of her, I'll remember the moment we shared, and enjoy the memory, and be grateful it happened.
And I guess the aim of this post is not only to vent myself, but to also make sure that if any of you are going through something similar too, maybe this will open your eyes as the book opened mine.
And if you did actually read all of this post, I really have to thank you for doing so. And I hope you didn't mind this little off-topic post.
Have a nice day and take care!
Did you like this post? Why don't we keep in touch?
Follow