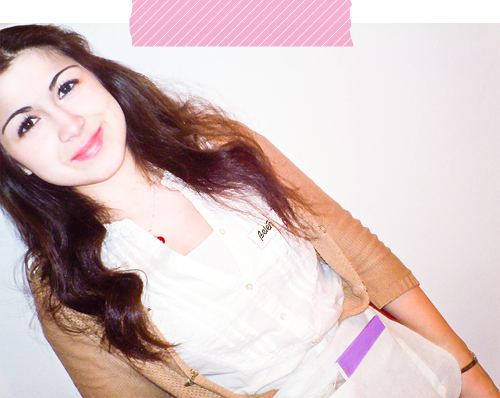 Hey!
For my first post, I decided to write 20 facts about me so that you will get to know a little bit.
I hate my name. And nobody who doesn't speak Spanish can pronounce it right, so I'd rather just be called Be.
I love Greek and anything greek. I even took (modern) Greek lessons for two years.
I volunteered at the London 2012 Olympics.
I study computer science and I'm the only girl in my class most of the time, which I think makes me want to be as chic as possible.
I always thought I was born in the wrong time of history.
When I was little, my friends and I decided to never wear pink, dresses or skits. I love those three things now. I guess my old me would hate my actual me, but I don't regret anything.
80% of the times I say I wish I knew how to do something, I actually end up learning it.
I'm really stubborn.
I always wished I had an older brother.
I love making lists. I just keep making lists of anything: things I want to do before I die, things I have to do, things I have to pack, wishlists...
I hate how I look in pictures, so I barely have any pictures of myself.
My favorite m&m is the blue one, and my favorite gummy bear is the green one.
I'm terrible at working with other people. I always end up doing everything myself because I never like how anyone does things.
I hate talking on the phone. I feel stupid talking out loud when I'm on my own. Although I think it's because my house has very thin walls, so everyone can listen to what I'm saying.
I'm very superstitious.
My biggest dream is to be a mother some day.
My life would be so much better if I lived in the US.
I (almost) never delete music from my phone, so you can find the weirdest, most embarrassing songs there.
I love saying "super" when I'm talking in Spanish, and "oh my gosh" when I'm talking in English.
I always carry a band-aid in my wallet, that way I make sure I always have one with me.
¡Hola!
Para mi primera entrada, he decidido escribir 20 hechos/curiosidades sobre mí para que me conozcáis un poco mejor.
Odio mi nombre. Y nadie que no hable español sabe pronunciarlo, así que prefiero que me llamen Be a secas.
Me encanta Grecia y todo lo griego. Incluso fui a clases de griego (moderno) dos años.
Estuve de voluntaria en las Olimpiadas de Londres 2012.
Estudio informática y la mayoría del tiempo soy la única chica de mi clase, y creo que eso me hace llegar a mi casa como "necesito ser todo lo femenina que pueda".
Siempre he creído que he nacido en el momento de la historia equivocado.
Cuando era pequeña, mis amigas y yo decidimos que nunca nos pondríamos nada rosa, ni faldas ni vestidos. Ahora esas cosas me encantan. Supongo que mi antigua yo me odiaría, pero no me arrepiento de nada.
El 80% de las veces que digo que me gustaría saber hacer algo, acabo aprendiendo.
Soy muy cabezota.
Siempre quise tener un hermano mayor.
Me encanta hacer listas. Estoy todo el tiempo haciendo listas de cualquier cosa: cosas que hacer antes de morir, cosas que tengo que hacer, qué meter en la maleta, qué desearía tener...
Odio cómo salgo en las fotos, así que no tengo casi ninguna foto de mí.
Mi m&m favorito es el azul, y mi osito de gominola favorito es el verde.
Se me da fatal trabajar en grupos. Siempre acabo haciendo yo todo porque no me gusta como hacen el resto las cosas.
Odio hablar por teléfono. Me siento estúpida hablando en alto yo sola. Aunque creo que es porque las paredes de mi casa son muy finas, así que todo el mundo puede oir lo que digo.
Soy muy supersticiosa.
Mi mayor sueño es tener hijos algún dia.
Mi vida sería mucho mejor si viviese en Estados Unidos.
(Casi) nunca borro música de mi móvil, así que podéis encontrar canciones de lo más extrañas y ridículas.
Me encanta decir "super" cuando hablo en español, y "oh my gosh" cuando hablo en inglés.
Siempre llevo una tirita en la cartera, así me aseguro de que siempre llevo una conmigo.