Guess who got a new computer last week? ME! I'm so in love with it and thank goodness it arrived soon cause my old computer is still dead and I wouldn't have been able to do last week's makeover otherwise.
Last week's winner was Catherine of
Counter Pretty
, and this is the description she left in the comments:
I started this blog as my corner of the internet where I could ramble on about my makeup addiction and general chatter but on a student budget as so many bloggers seem to have thousands of expensive products that I just can't afford. I absolutely love blogging and all the beautiful friends I've made from it.
Catherine's template was really nice and she told me she only wanted to customize it a little bit more, so that's what we did. I forgot to take a screenshot of what it looked like before the changes (I'm so sorry), but this is the template she had: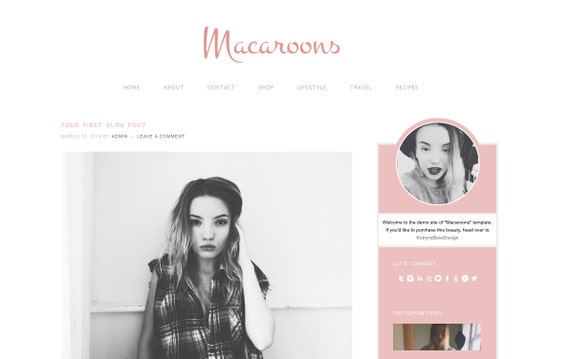 The first thing I did was change some things I didn't like a lot, like the date header and the sidebar, which was a bit too pink for my taste, so I decided to make it white and keep only some things in pink.
I then moved on to the graphics. I think I did like every single thing I could think of. And this was the final result:
If you want to win a blog makeover like Catherine, you have a new chance this week! For those of you who have been entering every week, don't give up. Keep copy-pasting your post. Remember summer has a lot of weeks and you never know which may be your week.
Do you want to win next week's makeover?
Rules
You must be following me on bloglovin'.
You must be a blogger user. I don't know how to design anything for wordpress or any other blogging platforms... Sorry.
I will contact the winner on Monday, and you have 24 hours to reply to that email.
If you don't, I will choose someone else.
All the designs will include a little credit (it will be small, I promise) that you cannot remove.
I only have one week to work on the design.
I won't just copy someone's template. When I used tumblr, I remember being asked to make a theme like the one some other user had. Please don't ask me to do this. You can send me blog designs you like for inspiration, or you can tell me you like certain elements in their designs, but please don't ask me to completely copy the whole template.
Please do not enter if you are going to unfollow me afterwards, or if you won't use the template.
What must the comment include?
Your blog's name
Your blog's URL
A brief description of your blog
Your e-mail (so I can contact you)
Why you want to win the makeover
Remember
You have until Sunday (included) to leave your comment.
I will choose one winner and send him/her an email next Monday.
If you don't answer in 24 hours, I will choose someone else.
We have until next Sunday to work on the design.
Have a nice day and good luck!
Did you like this post? Why don't we keep in touch?
Follow