I love girl's night's in and girly movies. Put the two of them together, add crap food and you pretty much obtain my perfect plan!
27 dresses
After serving as a bridesmaid 27 times, a young woman wrestles with the idea of standing by her sister's side as her sibling marries the man she's secretly in love with.
This is one of my absolute favorite movies, probably my favorite. I really relate to Jane and come on! James Marsden! You can never get enough of him!
wild child
A rebellious Malibu princess is shipped off to a strict English boarding school by her father.
I know this may seem like a pretty trashy movie but I absolutely love it. And I don't want it to seem like I only watch these films for the hot guys but Alex Pettyfer is clearly an extra reason to watch this one.
Sundays at tiffany's
Michael is a 'guardian angel' who appears when children need an invisible ('imaginary') friend until the birthday after his help worked. His charge from ages 5 to 10, would be-author Jane Claremont, is about to marry Tv series star Hugh Danderford. Now Michael appears again, but neither understands with which mission. He's in love with her, a new experience, gradually seduces her by being his irresistible, soul-mate-like self and becomes corporeal. She stubbornly claims toward him, Hugh and her best friend, a psychotherapist, to remain committed to Hugh.
This is one of the sweetest movies I have watched. I think it has it all: the sweetness, funny moments... Definitely a must watch!
pitch perfect
Beca, a freshman at Barden University, is cajoled into joining The Bellas, her school's all-girls singing group. Injecting some much needed energy into their repertoire, The Bellas take on their male rivals in a campus competition.
I seriously cannot watch this movie enough times. I, as most people, love music and I find the songs in this films so fascinating. It's incredible what human voices can do. I also love it because although it is short of girly, it's not the typical cheesy movie. I would definitely not show this movie to a kid.
enchanted
A princess, who is prepared to be wed, is sent away to New York by an evil queen, where she falls in love with a lawyer.
This is the perfect movie for those of us who grew up loving Disney princesses, and, let's admit it, we still love those films! This movie never fails to make me smile.
Mean girls
Cady Heron is a hit with The Plastics, the A-list girl clique at her new school, until she makes the mistake of falling for Aaron Samuels, the ex-boyfriend of alpha Plastic Regina George.
I think this is a must watch for all girls. And it has some quotes to actually live by, like "on Wednesdays we wear pink". There are so many quotes from this film that we all need for our every-day life. Just for this, you have to watch this film.
clueless
A rich high school student tries to boost a new pupil's popularity, but reckons without affairs of the heart getting in the way.
I see this movie as an older version of Mean Girls. I think this one is also a movie all girly girls should watch at some point of their lives.
She's the man
When her brother decides to ditch for a couple weeks in London, Viola heads over to his elite boarding school, disguises herself as him, and proceeds to fall for one of her soccer teammates. Little does she realize she's not the only one with romantic troubles, as she, as he, gets in the middle of a series of intermingled love affairs.
I've always liked Amanda Bynes's films a lot. I think, of them all, this is my favorite. It has a lot of funny moments and it managed to perfectly combine girly with non-girly things.
legally blonde
When a blonde sorority queen is dumped by her boyfriend, she decides to follow him to law school to get him back and, once there, learns she has more legal savvy than she ever imagined.
I must confess I love those movies with the typical blond rich stupid girl, specially when she turns out to be not as stupid as you could think. I do a lot of times wish I could be like Ellie, wearing everything pink and being as girly as can be, and yet succeed in whatever I do.
Ice castles
Alexis Winston (Lynn-Holly Johnson) is a young girl who dreams of becoming a champion figure skater. One night, while practicing, Alexis suffers a terrible accident that takes her sight and threatens to destroy her dreams. In the midst of feeling sorry for herself she falls in love with a handsome young man named Nick (Robbie Benson) who (with help from her family) helps her to realize that she can still fulfill her dreams.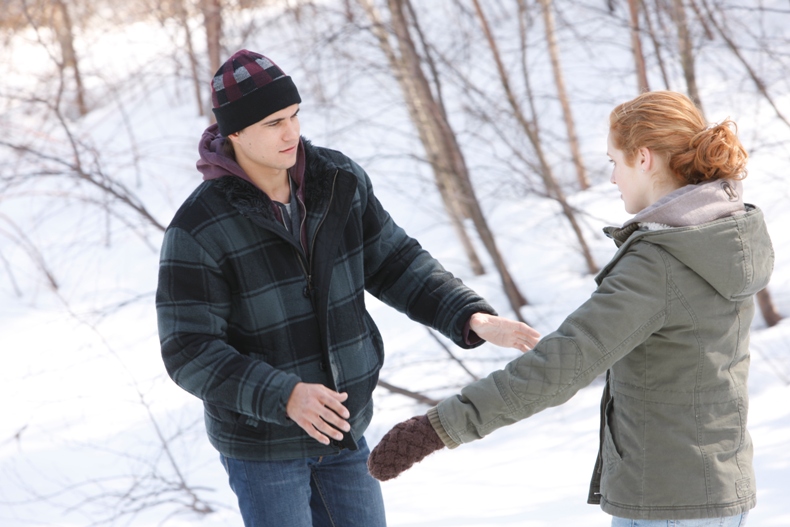 I must admit that maybe part of the reason why I love this movie so much is because I love anything ice-skating-related. I must warn you, though, that if you watch this movie, there is a high chance you will cry at some point. If you want to see a movie about ice skating that's more... Disney-like (that's the best word I could come up with), you can also watch
Ice Princess
.
Question of the day
Do you like girly movies? Which are your favorite?
Did you like this post? Why don't we keep in touch?
Follow